Dear Pupils, Parent, Staff, and Governors,
This week has been a very busy week at St Joseph's, but I have extremely proud of all of the children in the school. Year 6 worked really hard and completed their SATs exams and remained calm, collected and engaged throughout. I know that all of the children in year 6 have worked really hard and they did their very best. I am excited about getting the results and seeing how well they have done. Our year 2 children have also completed their compulsory testing and again, the children excelled themselves. Of course, tests, exams and results are one part of a child's education and whilst I am proud of our great history of academic excellence, I also am aware that the children need a wider and rounder experience. Our year 5 children set off on their school journey to Sayers Croft on Wednesday. During the last few days they have been pond-dipping, having camp fires, building shelters and generally enjoying each other's company and the English country side. I hope they have a very restful weekend. Thank you to the staff that accompanied the children and kept them safe and happy.
The whole school celebrated the marriage of Meghan Markle and Prince Harry today with many activities and lessons that encouraged the children to think about our British values, the sacrament of matrimony and the history of the monarchy. The children looked spectacular in their wedding outfits and I hope they will remember the events for years to come. Thank you to Mr Bowles for organising the day.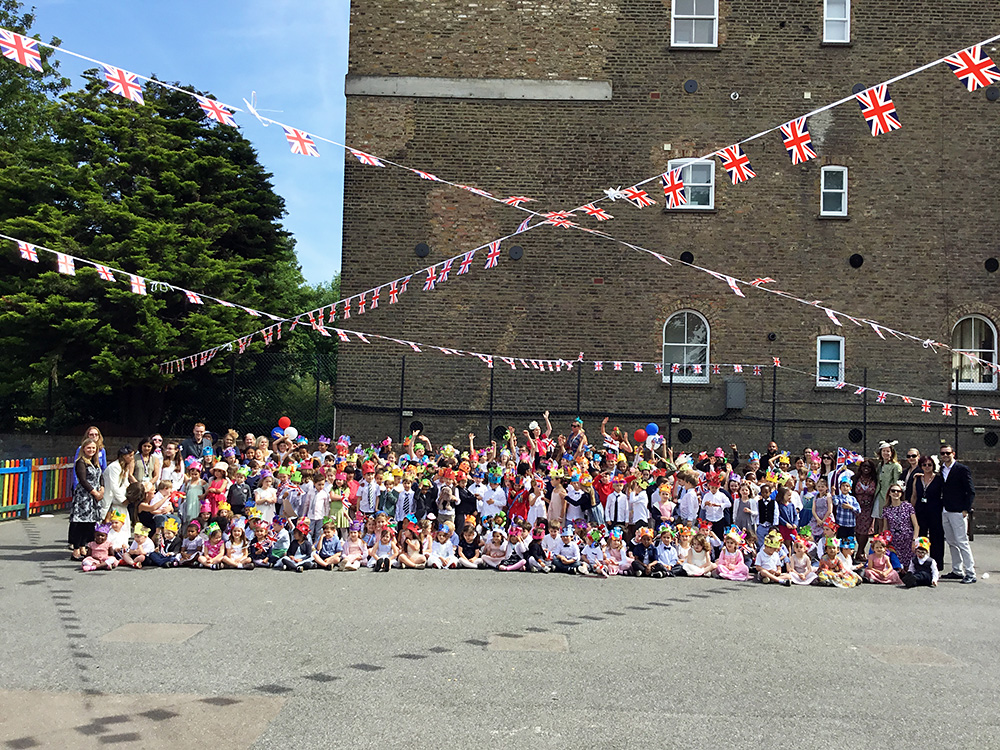 The staff showed off their creativity, design and baking skills today when they took part in a wedding cake competition. Mrs Dunphy and Mrs O'Connor had the difficult job of judging and rated all entries on taste, creativity and presentation. The overall winner, by a long walk, was Mrs Husain who, fresh from her win at the Easter bonnet competition, proved that her creative flair knows no bounds. Thank you to all the staff who participated in the baking, judging, and of course, the eating.
We had more fantastic news this week as our wonderful cook, Ruth, won an award for 'her excellent professionalism, dedication to her craft, concern for the health and welfare of the children she caters for and a magical culinary gift'. We are very lucky to have her.
Jarvis will be going home this week with Alistair in Pink 2 who is always kind, polite and helpful.
Next week is science week and Miss Dowling has a very busy and interesting week planned where the children will get to enjoy the beauty of the natural world and be filled with awe and wonder. During the week, most children will visit London Zoo, Kew Gardens and Paddington Rec. We will also be welcoming mini beasts in 'hotels' set up around the playground, be visited by birds of prey and hopefully keeping the chicks that have hatched in nursery safe!
May God bless you and keep you and your family safe.
Mrs K Husain
Head teacher
DATES FOR YOUR DIARY
Monday 21st
Science week begins
Blue classes visiting Kew Gardens (Plant Hunters)
Pink classes (Urbanwise with Moya venue tbc)
Violet 2 visiting Tower of London
Tuesday 22nd
Violet 1 – Kew Gardens (Plant Scientists)
Violet 2 – Kew Gardens (Evolution & adaptations)
Wednesday 23rd
Violet 2 - (Urbanwise with Moya venue tbc)
Thursday 24th
Pink 1- (Urbanwise with Moya venue tbc)
Violet 1 – London Zoo (Rainforest Explorers)
Friday 25th
Blue classes – London Zoo (Rainforest Explorers)
Violet 2 – London Zoo (Endangered Animals)
Pink 2- (Urbanwise with Moya venue tbc)
Half term begins 3:30pm

June
Monday 4th
INSET DAY (no children to attend)
Tuesday 5th
Start of term (children return)
SJSA meeting 6pm
Thursday 7th
Y3 Communion Mass @9:30 (school hall)
Friday 8th
Y4 Auction sleepover
Tuesday 12th
Class end of year photograph
Wednesday 13th
Nursery Auction promise (6 children – Arty club)
Thursday 14th
Y1 Auction promise (6 children Regent's Park Open Air Theatre & picnic)
Friday 15th
Y6 visiting Tower of London Music Festival
Wednesday 20th
Y6 Auction promise (6 children)
Monday 25th
Meeting for parents of children starting Nursery in Sept 2018 9:30 in hall
Tuesday 26th
Meeting for parents of children starting Reception in Sept 2018 9:30 in hall
Wednesday 27th
Reception Auction promise (8 children)
Thursday 28th
Sports Day
Friday 29th
Nursery Teddy Bear picnic – Paddington Rec
Merits
Rec B1 - Lowry
Rec B2 - Matilde
Pink 1 - Suri
Pink 2 - Nicholas
Pink 3 - Anna
Blue 1 - Tamara
Blue 2 - Matteo
Blue 3 - Summer
Violet 1 - N/A
Violet 2 - N/A
Writer of the Week
Rec B1 - Prince
Rec B2 - Hector
Pink 1 - Alex
Pink 2 - Oliver
Pink 3 - Merit
Blue 1 - Alice
Blue 2 - Stella
Blue 3 - Caterina
Violet 1 - N/A
Violet 2 - N/A