Dear Pupils, Parent, Staff, and Governors,
Last Saturday was a marvellous evening and the St Joseph's School Association did a sterling job in organising the Royal Winter Gala. It was lovely to see so many people from the school community enjoying themselves together. Thank you to all of you who helped in the run up to the event, who helped on the night and all those who came to school on Sunday morning to help clean up. The event raised an impressive £6474.75. Thank you very much indeed.
After outstanding feedback following our Y6 Poetry Workshop, organised in conjunction with Coral Rumble and The Poetry Society, we are delighted to announce that Julius, Emma and Rafael from Year 6 have been invited to perform poetry at the lighting up of the Christmas Tree in Trafalgar Square on Thursday 7 December. This is a wonderfully prestigious event hosted by The Lord Mayor with BBC television coverage on BBC Newsround. Needless to say, we are very proud to be part of such a time-honoured tradition.
Last night, the children from year 6 attended the Christmas light switch on at Clifton Nurseries. The children were joined by the Mayor of Westminster and sang Christmas Carols to the delight of the audience. The singing was beautiful and the children were impeccably behaved and looked very smart in their winter uniforms. It was a lovely occasion, and once again, I was incredibly proud of our year 6 children.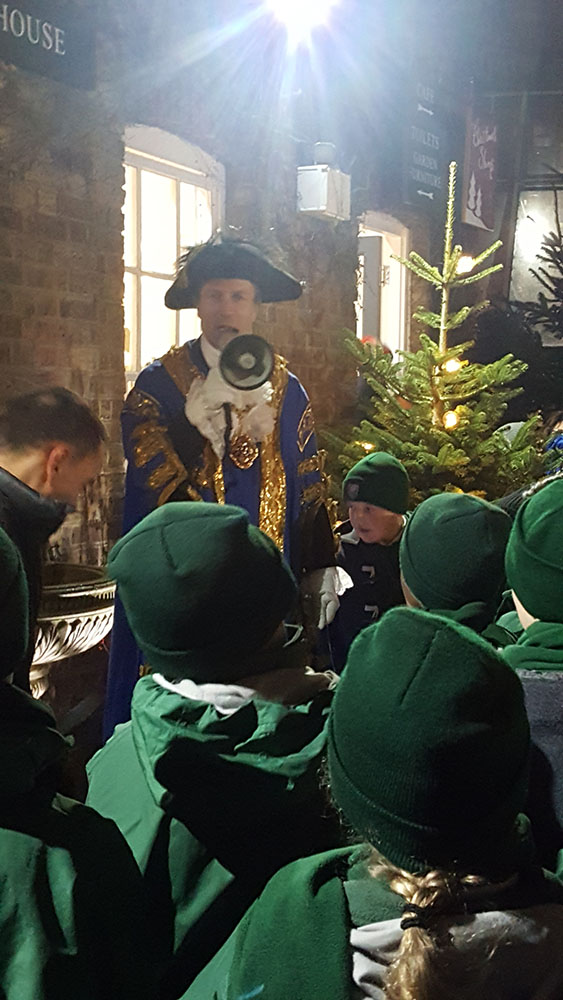 If you, or anyone you know is a crafter, maker or baker then you are very welcome to hire a table to sell your wares at the first St Joseph's Christmas Bazaar. This is taking place in the school hall on Friday 8th December from 3-7. Tables are £20 each. Please contact Tessa Gorman at tessagorman1@gmail.com
Recently, the children in KS2 gave the staff their thoughts in a pupil survey. We were very pleased with the results:
97% of children are happy at school.
99% feel safe.
98% think that they learn a lot.
99% are aware that the teachers and staff care about them.
98% enjoy their lessons.
99% know who they can talk to if they are worried about something.
82% of children think that everyone is well behaved in class, while 76% think that everyone plays well together in the playground. We are working with the student council, staff and governors at the moment to develop our Behaviour Policy to improve behaviour and focus on the caring, sharing and overwhelmingly positive behaviour that we see amongst the children on a daily basis. In the New Year, I will be inviting parents to a Partnership meeting to discuss behaviour with you and get your views.
May God bless you and family and keep you safe.
Yours sincerely,

Mrs K Husain
Head teacher
DATES FOR YOUR DIARY

DECEMBER
Tuesday 5th
KS2 Mass @ Our Lady's 10am (Advent begins)
Wednesday 6th
January after school club sign up 8:30am – 9:30am (entrance area)
& 3pm – 4pm
Thursday 7th
January after school club sign up 8:30am – 9:30am (entrance area)
& 3pm – 4pm
KS1 Advent Service 9am school hall
Friday 8th
Christmas Bazaar 3-7pm (school hall)
Tuesday 12th
KS2 Christmas Carol Service @ Our Lady's church 2pm
Wednesday 13th
EYFS Christmas production 9:30am school hall
KS1 (pink) Christmas production 2:30pm school hall
Thursday 14th
School Christmas Dinner (packed lunch welcome to purchase meal- prebook required)
KS1 (pink) Christmas production 6pm school hall
Tuesday 19th
Term ends 1:30pm
Merits
Rec B1 - Lenny
Rec B2 - Angela
Pink 1 - Julia
Pink 2 - Anna
Pink 3 - Muna
Blue 1 - Rebecca
Blue 2 - Mila
Blue 3 - Joe
Violet 1 - Cicely Rose
Violet 2 - Raphy
Writer of the Week
Rec B1 - Thomas
Rec B2 - Minudi
Pink 1 - Elisa
Pink 2 - Lorenzo
Pink 3 - Miles
Blue 1 - Joshua
Blue 2 - Ruby
Blue 3 - Emma
Violet 1 - Melissa
Violet 2 - Harry